Dr. Courtney Manetti VMD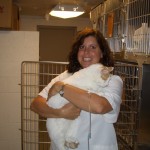 Dr. Courtney Manetti knew from a young age she would follow in her father's footsteps and become a veterinarian. Raised primarily in Delaware, she attended William Penn High School and The University of Delaware. She graduated from The University of Pennsylvania School of Veterinary Medicine in 1999. She is a member of the American Veterinary Medical Association, the Delaware Veterinary Medical Association, and recently served on the Delaware Veterinary Board. She and her husband, Vinnie, have two school aged children. The family is rounded out by several dogs, and cats. She enjoys traveling and attending her children's sporting events.
Dr. Luke Jones VMD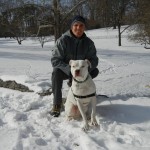 Unlike his older sister, Courtney, Luke did not always know he wanted to be a veterinarian. After graduating from Archmere Academy, he completed 4 years of mechanical engineering at Virginia Tech. However, as he completed a co-op position in engineering, he realized his heart was in veterinary medicine, not engineering. He changed his major to Biology and was on his way to becoming a veterinarian. He graduated from the Univeristy of Pennsylvania veterinary school in 2005. He completed an internship in San Diego in 2006 and continued his career in San Diego until 2008 when he returned home to Red Lion.  Dr. Luke recently served on the Dangerous Dog Panel for Delaware.  Luke and his wife, Lauren, are native Delawareans who enjoy all manner of outdoor activities from hiking to surfing and everything in between.  Now much of their time is consumed with their two children, dog and cat.
Dr. Amanda Pedrick DVM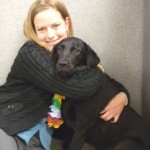 Dr. Amanda (Hummel) Pedrick is originally from Carroll County, Maryland. She attended Delaware Valley College in Doylestown, Pennsylvania where she obtained a Bachelor of Science degree in Biology in 2005. In 2009 she graduated from Michigan State University College of Veterinary Medicine and moved to California for a yearlong internship at the Veterinary Medical and Surgical Group in Ventura.  After which time, she returned to the east coast to be closer to her family and in 2011 joined the team at Red Lion.  Dr. Pedrick became a Certified Canine Rehabilitation Therapist in 2014 with an interest in post-operative and geriatric rehabilitation.  Dr. Pedrick recently served as New Castle County Representative for the Delaware Veterinary Medical Association.  Outside of Red Lion, she enjoys spending time with her family, including her husband, daughter, three dogs, and two cats.
Dr. Andrea Halko VMD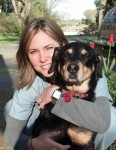 Dr Andrea Halko was born and raised in Delaware and graduated from Archmere Academy and the University of Delaware. She always dreamed of becoming a veterinarian and began working at Red Lion Veterinary Hospital in May of 1998 while attending college. After graduating she was briefly pulled away from pursuing her career in veterinary medicine to help with the family business. After fulfilling her obligation, she completed a Masters Degree at Drexel University and continued to attain her veterinary degree from the University of Pennsylvania. Dr Halko found employment at another local hospital for the first year after graduation and has finally returned "home" to work with the talented doctors and caring nursing staff at Red Lion. She enjoys spending time with her family, including dogs George, and Shamus, cat Stewart, and horse Ataa.
Dr. Smita Namjoshi VMD
Dr. Lindsey Rowland Heller DVM
Our Founder
Dr. Southard Jones VMD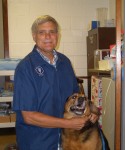 Doctor Wm. Southard Jones was a Delaware native who grew up in Newark surrounded by his father's collection of exotic animals including buffalo, a monkey, a bear and a coatimundi among others.  He attended the University of Delaware, Virginia Tech for animal reproduction master's program, and the University of Pennsylvania for his veterinary degree. He founded Red Lion Veterinary Hospital in 1978 intending to split his time between pets and the cows and horses in the area; as the farms disappeared, the large animal work took a back-seat to the increasing numbers of dogs and cats. At the same time, he assisted his wife in raising five children, two of whom are currently running the hospital, Dr. Courtney Manetti and Dr. Luke Jones. The others are: Southard, Adam, and Katie. His wife Pat still does the purchasing for the hospital.  Dr. Jones proudly served the Bear and New Castle area for over 35 years before his passing in 2013.  He left behind a wonderful legacy in his children that continue to follow his mission of providing the best care possible while running a welcoming, family oriented hospital.  In addition to his wife and children, he is survived by eight grandchildren.  Hopefully, they will represent the next generation of veterinary care in Delaware.