At Red Lion, we take the time to learn about you and your pet during your routine care visits. From your first puppy or kitten visit, we are equipped to provide diagnostic and therapeutic services for your pet's complete health care needs.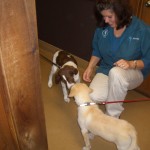 We recommend that you bring your pet in at least once each year for routine veterinary care until age 7, to discuss any issues or medical problems and prevent new problems from occurring. After age 7, we recommend senior health examinations twice annually, as animals age much faster than people. Senior pets may need changes in their diet, supplements, or medications, and we want to detect any changes as soon as possible to help maintain a longer, healthy life.
At your pets annual visit, it will be given a complete physical exam. This gives the veterinarian the opportunity to listen you your pet's heart, to look in your pets mouth to look for dental disease, feel for any new lumps and give an overall comprehensive physical exam. Heart disease and dental disease are often not apparent to the owner until they are very severe. In addition, routine visits keep your pet healthy from parasites, fleas, and ticks that can cause other detrimental conditions for your pet or your family.
As part of your routine care visits, our veterinarians provide guidance regarding your pet's nutritional needs for each life stage, including dietary requirements for growth, weight maintenance and performance. Red Lion Veterinary Hospital maintains a complete inventory of pharmaceuticals, vitamins and flea & heartworm preventatives, as well as specialty dietary food options to keep your pet happy and healthy all year long.